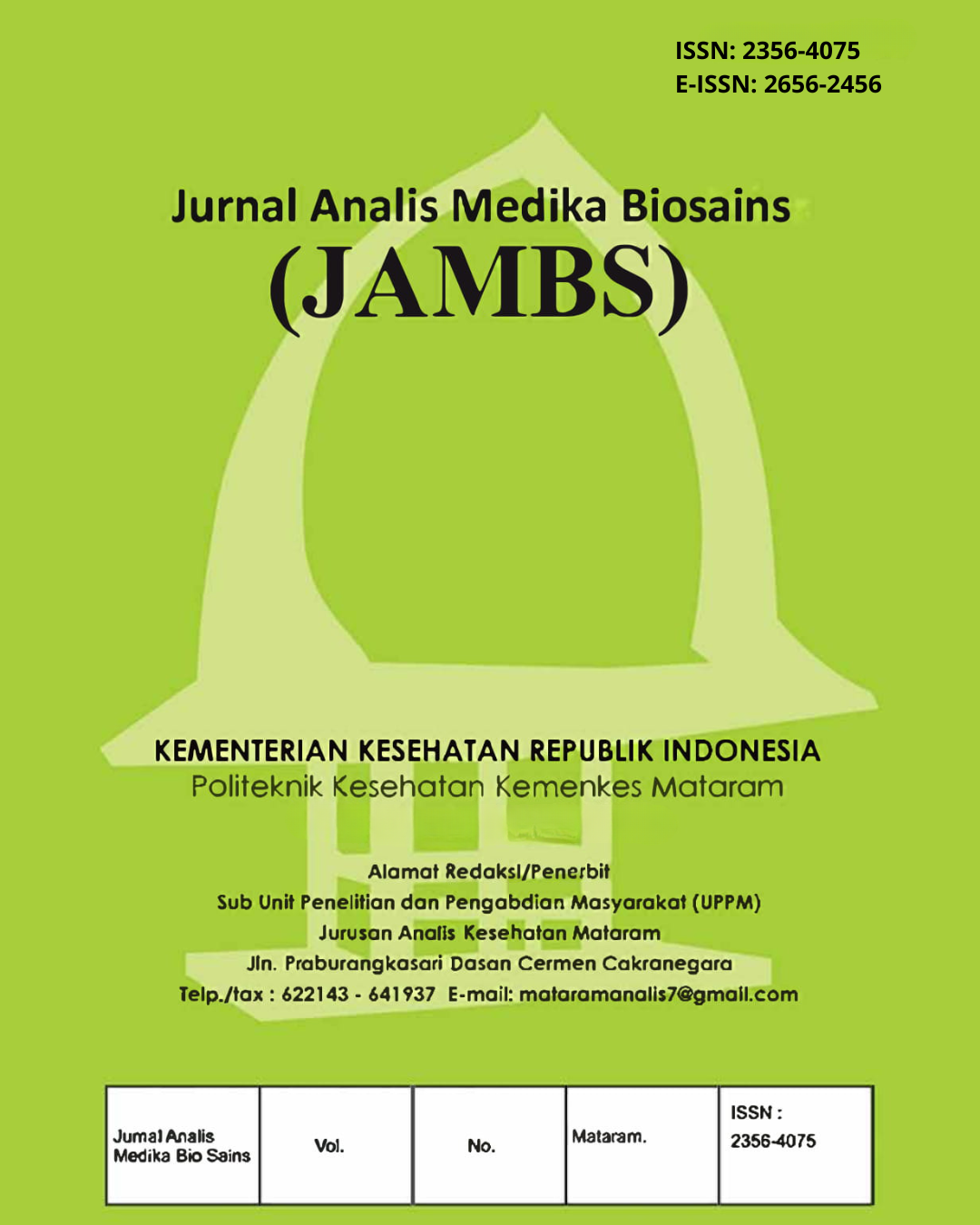 Jurnal Analis Medika Bio Sains (JAMBS) is a Journal by Jurusan Analis Kesehatan Poltekkes Mataram Kemenkes RI, published since 2014. JAMBS adopts double-blind peer review policy, and focused on various subdiscipline of the legal science, among others:
Food and baverage analysis
microbiology
hematology
clinical laboratory
parasitology
immunoserology
JAMBS also accepts articles related the topic on the cross section between medical laboratory technology.
Announcements
No announcements have been published.
Vol 6, No 2 (2019): JURNAL ANALIS MEDIKA BIOSAINS
SEPTEMBER 2019
Table of Contents
Articles
| | | |
| --- | --- | --- |
| | Lale Budi Kusuma, Ida Bagus Rai, Iswari Pauzi | 89-92 |
| | | |
| --- | --- | --- |
| | Aida Wildatun Muthmainnah, Lalu Srigede, Yunan Jiwintarum | 93-97 |
| | | |
| --- | --- | --- |
| | Yuliana Tri Risky, Agrijanti Agrijanti, Nurul Inayati | 98-104 |
| | | |
| --- | --- | --- |
| | Subhan Subhan, Erna Kristinawati, Iwayan Getas | 105-111 |
| | | |
| --- | --- | --- |
| | Dendi Arisandi, Erlin Yustin Tatontos, Urip Urip | 112-115 |
| | | |
| --- | --- | --- |
| | Fahril Rizal Saputra, Ida Bagus Rai, Zainal Fikri | 116-119 |
| | | |
| --- | --- | --- |
| | Desak Made Sri, Maruni Wiwin Diarti, Siti Zaetun | 120-124 |
| | | |
| --- | --- | --- |
| | Nurul Warsita, Zainal Fikri, Pancawati ariami | 125-129 |
| | | |
| --- | --- | --- |
| | Ni Putu Winda, Yudha Anggit Jiwantoro, Ari Khusuma | 130-134 |
| | | |
| --- | --- | --- |
| | Dina Nurmayani, Fitria Ernawati, Miftahul Jannah | 135-139 |