Jurnal Analis Medika Biosains (JAMBS) is a journal by Jurusan Teknologi Laboratorium Medis, Poltekkes Kemenkes Mataram. JAMBS accepts only original research articles relevant to the field of Analis Kesehatan and health sciences. Regular scientific focus and coverage covering the health, such us:
Food and beverage analysis
Microbiology
Hematology
Clinical Laboratory
Parasitology
Immunology
Toxicology
JAMBS has been accredited with The Ministry of Research, Technology and Higher Education of the Republic of Indonesia number SINTA 5 with SK Number: 164/E/KPT/2021 starting from volume 5 issue 1.
Since Vol. 10 No. 1 March 2023, Jurnal Analis Medika Biosains (JAMBS) only receives full-text manuscript in ENGLISH.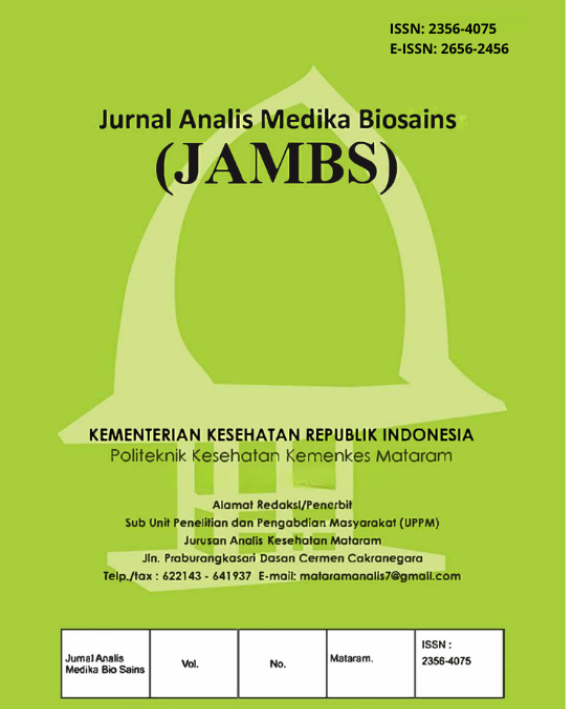 Announcements
CALL FOR REVIEWERS

The Editors of the Jurnal Analis Medika Biosains (JAMBS) invite you to become a Reviewer for our Journal JAMBS, published by Jurusan Teknologi Laboratorium Medis - Politeknik Kesehatan Kemenkes Mataram, Jl. Praburangkasari, Dasan Cermen, Sandubaya, Kota Mataram, Provinsi Nusa Tenggara Barat.

For invitees, please send your CV as a Reviewer to email: jambspolkesram@gmail.com or whatsapp 

Thank you.

Posted: 2022-12-27
Vol 10, No 2 (2023): JURNAL ANALIS MEDIKA BIOSAINS (JAMBS)
Table of Contents
Articles
| | | |
| --- | --- | --- |
| | Akhmad Rizal Effendi, Gilang Nugraha, Andreas Putro Ragil Santoso | 70-74 |
| | | |
| --- | --- | --- |
| | Febriyanti Wora Kapero, Erni Yohani Mahtuti, Previta Zeizar Rahmawati | 75-81 |
| | | |
| --- | --- | --- |
| | Shofan Ilham Sulaiman, Edy Haryanto, Lully Hanni Endarini | 82-86 |
| | | |
| --- | --- | --- |
| | Eva Royandriani Rustamaji, Siti Zaetun, I Wayan Getas, Rohmi Rohmi, Musayadah Musayadah | 87-92 |
| | | |
| --- | --- | --- |
| | Yaumi Tasu'a Salsabila, Pancawati Ariami, Ida Bagus Rai Wiadnya, Thomas Tandi Manu | 93-100 |
| | | |
| --- | --- | --- |
| | I Made Wahyu Waisnawa, Ida Bagus Rai Wiadnya, Thomas Tandi Manu, Agrijanti Agrijanti | 101-111 |
| | | |
| --- | --- | --- |
| | Ria Puspita, Suliati Suliati, Diah Titik Mutiarawati | 112-119 |
| | | |
| --- | --- | --- |
| | Sandi Setya Pratama, Adhi Kumoro | 120-124 |
| | | |
| --- | --- | --- |
| | Iswari pauzi, Aliefmam Hakim, Aris Doyan, Gito Hadiprayitno, Joni Rokhmat, A.A Sukarso | 125-131 |
| | | |
| --- | --- | --- |
| | Zakiyatudin Anduko Romadhon, Arif Mulyanto, Ikhsan Mujahid, Oei Stefani Yuanita Widodo | 132-137 |